Every time I pull out the camera to take a picture of my new hair color, I take a peek through the viewfinder then turn the camera away. I hate looking at pictures of myself. Bleh! So I turn the camera in a new direction... and look at what you get to learn about me!
I really need a pedicure (I'm looking at you E)
One of my nails is ripping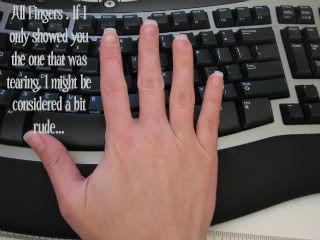 On closer inspection maybe a manicure is in order also...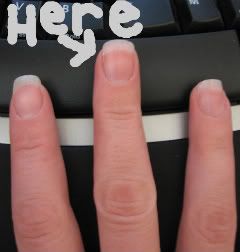 I think perhaps it's time for new jeans?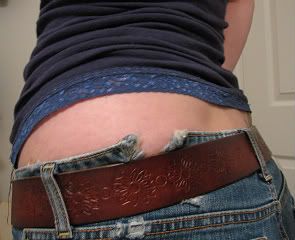 I am extremely creative and crafty and discovered a way to show you my hair and not my face... well, not much of it anyway.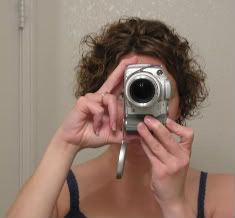 Put those pieces together and you have me. Well, some of me. If you are especially lucky I might get my husband to take a picture of me this weekend when I have actually done my hair. That's right. I'm one of those people. If I'm not going out - the flat iron doesn't touch my hair, ratty jeans and an old tank top are my uniform and flip flops are my footwear of choice. Okay, flip flops would be my footwear of choice even if I were going to a State dinner or something (doesn't mean that propriety wouldn't win out - just means that that is what I would want to wear).
Hope you enjoyed this little show and tell as much as I did. Seriously - because, and I think I may have mentioned this before, I don't enjoy taking pictures of myself - this was no picnic.