I'm going to get my hair cut (and stuff) today. My sister made me an appointment with her stylist and I have to admit to being a little nervous. Not so much the "she might ruin my hair"! as the "I don't know what I'm gonna do with it"! I have complete faith in her - you should see how cute my sister's hair is... The last time I had my hair done, Christina (If you are ever in the Clarksville area and need your hair done - email me and I will send you her info. She is wickedly talented!) did it and I was in love with it. I had red, brown and blonde goin' on and it was awesome!
This is what it looks like now *cough* almost 3 months later *cough*: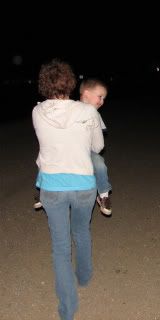 Well, from the back. With the wind blowing it forward.
I detest having my picture taken and my husband always seems to get this angle - strange, no?
I'm not sure what to do with it this time... Wish me luck!